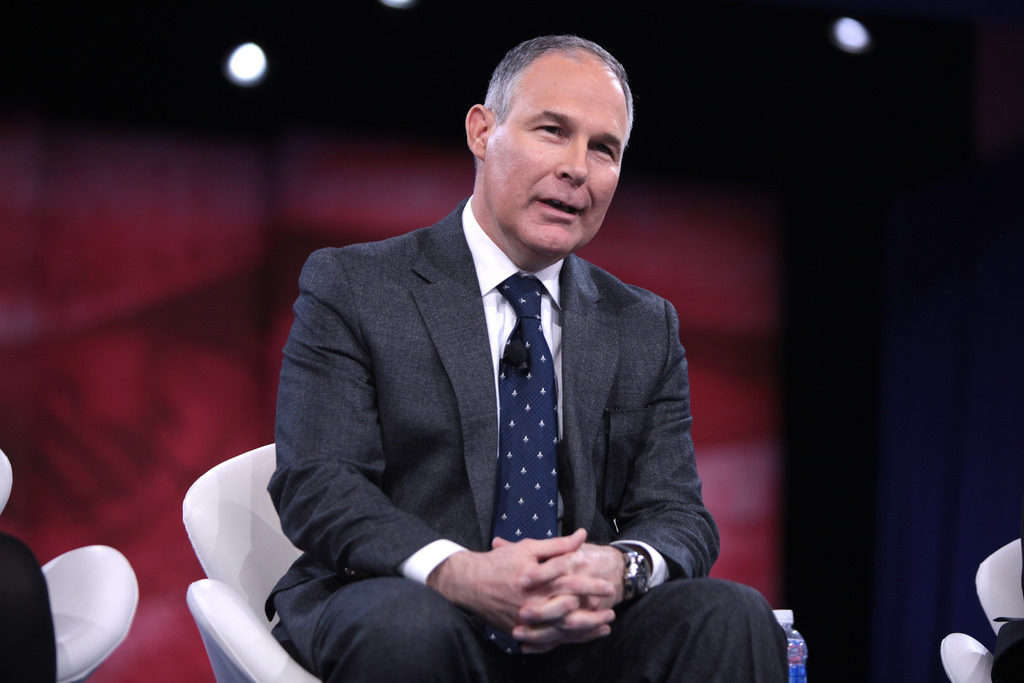 Oklahoma Attorney General Scott Pruitt's nomination to lead the Environmental Protection Agency was delayed Wednesday after Democrats on the Senate Environment and Public Works Committee failed to show up for a committee vote.
Led by Ranking Member Tom Carper, D-Del., committee Democrats claimed Pruitt had not sufficiently answered their more than 1,200 questions.
"The Committee Democrats are deeply concerned about the lack of thoroughness of Mr. Pruitt's responses to our questions for the record. I share their concerns," Carper wrote in a letter to EPW Chairman John Barrasso. "While Committee Democrats acknowledge that Mr. Pruitt did submit responses to many questions, too many of his answers fail to provide requested documents, substance, and clarity needed about his potential conflicts of interest."
Barrasso, R-Wyo., said he was disappointed in his Democratic colleagues, arguing Pruitt was vetted more thoroughly than any other EPA nominee in history.
"The committee's review of Attorney General Pruitt's nomination has been unparalleled in its scrutiny, thoroughness, and respect for minority rights," Barrasso wrote in a letter to Ranking Member Carper. "Attorney General Pruitt has answered more questions than any past EPA administrator nominee. He has been comprehensively vetted and has demonstrated his qualifications to lead the EPA."
Calling Pruitt a friend to Oklahomans, Sen. Jim Inhofe of Oklahoma said Pruitt was generous in providing information to the committee.
"It's time I think we move on and get him voted out (of committee)," Inhofe said.
Unable to vote on the nomination, committee members took the opportunity to express their disdain for the boycott and convey their support for the nominee.
"I understand that my Democrat colleagues may not agree with Attorney General Pruitt's answers or with his philosophy, but disagreement with his position cannot justify a decision to boycott a scheduled committee vote," said Sen. Shelley Moore Capito, R-W.V.
Pruitt deserves the same consideration given to previous EPA nominees, Capito said.
Sen. John Boozman, R-Ark., blamed his Democratic colleagues for boycotting the vote because of contempt for the new administration.
"I understand that my friends on the other side of the aisle aren't happy with the Trump administration and are doing everything possible to delay voting on many of his Cabinet nominees," Boozman said. "I would like to point out there is a stark difference between not having a question answered and receiving an answer that you do not like and can't agree with."
Boozman praised Pruitt, saying the nominee has agreed to be transparent in the EPA rule-making process, promised to bring stakeholders to the table when developing rules, and is committed to following the rule of law.
"The EPA needs a serious course correction after the lawless leadership of Gina McCarthy," Sen. Dan Sullivan, R-Ala. "Mr. Pruitt has shown he has the commitment, the intellect, the experience to lead this change."
Sen. Mike Rounds of South Dakota said Pruitt will accomplish changes at the EPA that many Americans have requested.
"He believes in sound science," Rounds said. "He's one of the guys that understands that regulations really do impact the day-to-day lives of American citizens."
At the end of the hearing, Chairman Barrasso said he is committed to confirming Pruitt's nomination "as expeditiously as possible."
Learn why farmers and ranchers across the U.S. support Pruitt for EPA administrator here.