WHAT IS A FERAL HOG?
Feral hogs are essentially wild hogs that are descendants of domesticated swine. They are a nonnative species. Most originated from domestic swine that escaped or were released into the wild.
WHY ARE THEY A PROBLEM?
Each year, feral hogs cost U.S. farmers, ranchers and landowners an estimated $1.5 billion in damage to crops, equipment, land and more. Feral hogs rapidly reproduce; each sow has up to two litters each year, with four to 10 piglets in each litter. They also can adapt easily to and survive in almost any habitat, making them a stubborn and continuous problem.
HOW LARGE IS THE POPULATION IN OKLAHOMA?
The Samuel Roberts Noble Foundation in Ardmore, Oklahoma, estimated the population to be between 617,000 and 1.4 million in 2007. Since then, no efforts have been made to estimate the current population. Feral hogs have been found in all 77 Oklahoma counties.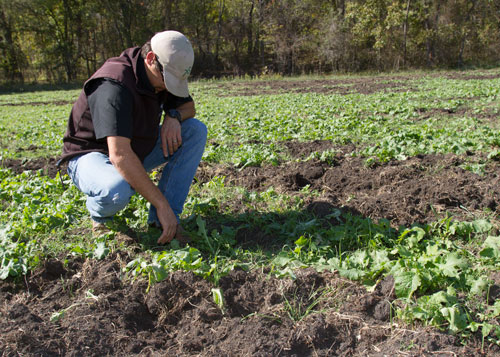 WHAT PROBLEMS DO FERAL HOGS CREATE?
Feral hogs can carry and transmit many dangerous diseases including tuberculosis, pseudorabies, swine brucellosis, tick-fever, rabies, anthrax and many more. Some hogs tested in Oklahoma have even been found with traces of the bubonic plague.
The invasive species is most problematic for farmers and ranchers, as feral hogs prey on livestock, scavenge fields of crops, and damage equipment and facilities. They are known for rooting, wallowing and depredating.
HOW DO WE GET RID OF FERAL HOGS?
Eradicating, or even controlling, feral hogs is a complicated task. The species is stubborn and hard to eradicate. Plus, most individuals involved do not agree on the best method to control them. However, the Noble Foundation states that 70 percent of the population must be eradicated each year to control the population. Commercial sport hunters kill only approximately 5 percent of the population.
The Noble Foundation suggests an integrated approach by all landowners to adequately control, and eventually eradicate, the feral hog population.
Find more information about feral hogs using the resources below.